Thumbnails 2
They're pretty big files, but worth the wait, trust us. They're also cool to use as a background for your desktop. Thanx a shitload to the makers of the video.


Added some info about the new single and video in the news section. If you want to be sure that you know everything first, sign up to the Travoltas Newsletter. Scroll down to sign up!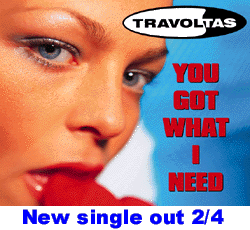 Soon to come travoltas.com !!!
Click on the graphic to see more info about our visitors:


Contact the creators of this page: Siebe en Arjan